Sponsor opportunities
We invite you to become an ESP Asia Conference sponsor!
Benefits to your organization
ESP is the largest network organization in the field of Ecosystem Services worldwide. As an ESP Asia Conference sponsor, your organization can :
Gain exposure to a rapidly developing field of ecosystem services knowledge
Seek solutions to your organization's sustainability challenges and refine sustainability goals
Expand your network of partners from industry and academina
Join the science – policy – practice interface of Ecosystem Services 
Have access to latest scientific and policy insights
Connect with an international group of more than 3,000 people from over 60 countries
Showcase your products and services to an audience of around 400 conference participants
Click here to open the sponsorship package and read more about the benefits of sponsoring the ESP Asia conference.
Sponsorship categories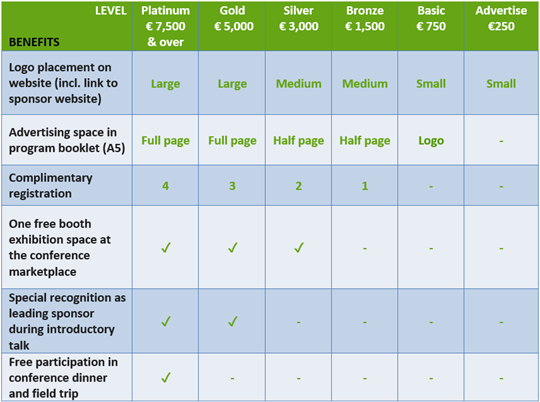 Become a sponsor
To become a sponsor please fill in the sponsor registration form and send it to the ESP Asia Secretariat. If you don't see the perfect package above, please also contact us to discuss tailor made options.
ESP Asia 2021

Registration website for ESP Asia 2021
ESP Asia 2021assistant@esp-asia.org
ESP Asia 2021assistant@esp-asia.orghttps://www.espconference.org/asia2021
2021-12-14
2021-12-17
OfflineEventAttendanceMode
EventScheduled
ESP Asia 2021ESP Asia 20210.00EUROnlineOnly2019-01-01T00:00:00Z
To be announced
To be announced