Intergovernmental Meeting
When: Dec. 15, 14:00~15:30  (GMT+9)
Where: Virtual(Japan)
Organizer: Ministry of Environment, Japan & Local Organizing Committee(LOC)
Topic: Best practices for post 2020 biodiversity targets
Purpose: to bring together governmental officers to address issues on ecosystem service approaches to achieve post 2020 biodiversity targets in diverse areas of Asia.
This meeting will be sponsored and hosted by the Ministry of Environment Japan and participants will be invited from different regions to deliver a range of practical issues, implementing strategies and exemplary cases related to the topic.
Draft Agenda
Opening of the meeting

Short presentations on regional practices to achieve biodiversity targets

Discussion to identify steps to move forward

Summary and closing
Delegates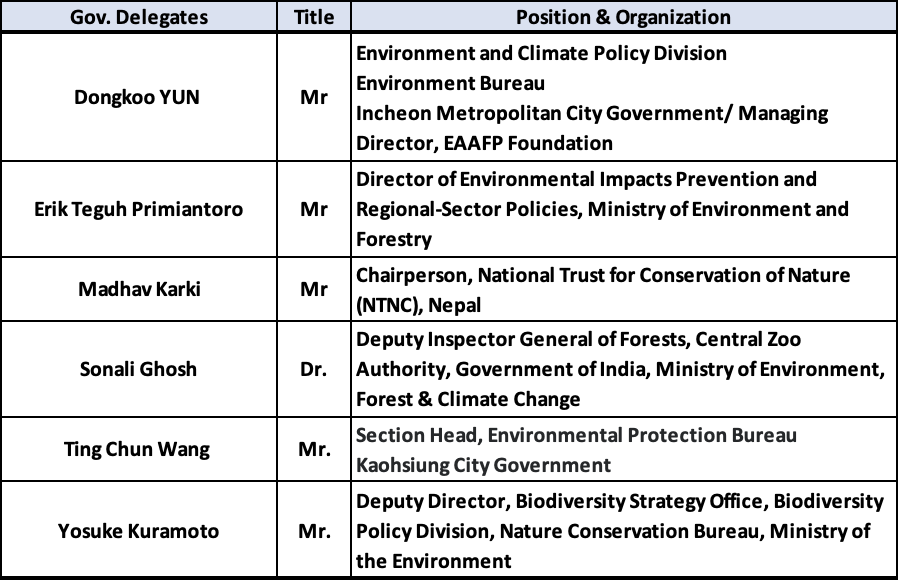 * The delegates are listed by alphabetical order.
  **More information will be updated. For further inquiries, please contact takahiro@nagasaki-u.ac.jp
Relevant materials can be found here. 
FIRST DRAFT OF THE POST-2020 GLOBAL BIODIVERSITY FRAMEWORK
https://www.cbd.int/conferences/post2020
ESP Asia 2021

Registration website for ESP Asia 2021
ESP Asia 2021assistant@esp-asia.org
ESP Asia 2021assistant@esp-asia.orghttps://www.espconference.org/asia2021
2021-12-14
2021-12-17
OfflineEventAttendanceMode
EventScheduled
ESP Asia 2021ESP Asia 20210.00EUROnlineOnly2019-01-01T00:00:00Z
To be announced
To be announced